2017 CA/US reviews:
Girls of the Golden West in San Francisco (November 29, 2017)
Manon in San Francisco (November 7, 2017)
La traviata in San Francisco (September 26, 2017)
Elektra in San Francisco (September 13, 2017)
Turandot in San Francisco (September 12, 2017)
La bohéme in San Francisco (June 15, 2017)
Don Giovanni in San Francisco (June 8, 2017)
Rigoletto in San Francisco (June 6, 2017)
Madama Butterfly in San Francisco (November 12, 2016)

Girls of the Golden West at San Francisco Opera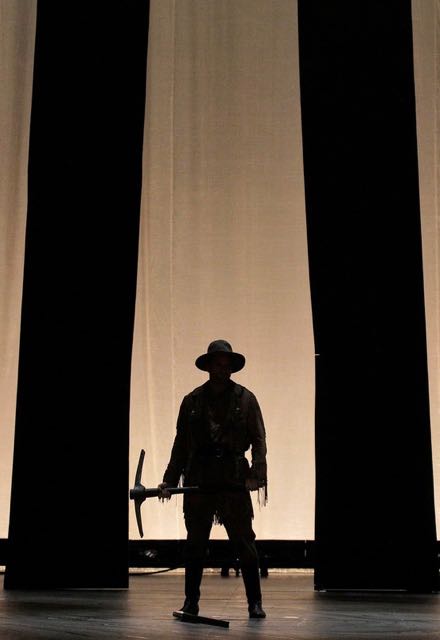 All photos copyright Cory Weaver courtesy of San Francisco Opera

Not many (maybe any) of the new operas presented by San Francisco Opera over the past 10 years would lure me to the War Memorial Opera House a second time around. But for Girls of the Golden West just now I would be there again tomorrow night and the next, and I am eagerly awaiting all future productions.
John Adams' eighth opera takes his now astonishing sonic and dramatic vocabulary to ever greater depths, creating, ultimately, shattering climax to the lives of seven early Californians, their stories, as construed by librettist Peter Sellars, unfolding both in their own words and in the words of poets and slaves in American history. The real protagonist of Girls of the Golden West is however the corpus of the 49er miners who pursue riches above all else and their inalienable right to the gold of the California mountains.
Girls of the Golden West, as staged by Peter Sellars, is an apt prelude to San Francisco Opera's forthcoming Der Ring des Nibelungen (it's essentially the same story). But far more than a prelude it stands on its own as the artistic exploration of the human and social forces of the American post-industrial era (Wagner's Ring is of the industrial world), insisting that we inherit from these miners a collective guilt for destroying the hopes and lives of people of color — black, brown and yellow, and, yes, even poor Joe Cannon from Missouri (white). It is of epic proportion though it takes a mere three hours compared to the sixteen hours of Wagner's epic when both finally arrive at a moment of purification.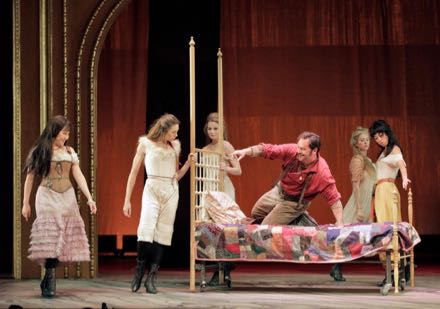 The minor Joe in the whorehouse, with whore Ah Sing, and corp de ballet whores
But Sellars' Girls of the Golden West goes dramatically beyond its philosophic purpose, immersing us in Adams' musical worlds of each of its characters. Dame Shirley is an actress from New England who plays Lady Macbeth to the down-on-luck miner Clarence's Macbeth inciting the miners to lynch Ned Peters, a black slave turned teamster. Joe Cannon's Sally back home in Missouri marries a butcher, on the rebound he marries a Chinese whore, Josefa is the beautiful Latina lure to attract the miners to the bar where Ramón is the croupier.
Act I is an idyll of perfect life inasmuch as life may be dreamt to be in this beautiful if rough, ugly world. In Act II these worlds are brutally vanquished in music that relentlessly throbs in powerful pulses, punctuated with bursts of tone that cannot be placed.
This bit of California history is real, in the real words of its historical actors, and thus alien to history or myth as usually imagined by opera where elaborated human situations are acted by invented human psyches. Composer Adams composes music to these real words that create art songs, an extended series of songs that you know and feel to be a cycle of some sort. There is a rare duet or two, six or so magnificent male choruses, several ballets (a respectful bow to grand opera), an occasional orchestral interlude. But there is no dialogue and there is no real story.
It is beautiful music of profound lyricism that is fiendishly difficult to sing, thus adding to the atmosphere of art that liberates this Girls of the Golden West from its imposed moral reprimand.
The Sellars production plays on the minimal, the literal and the naive. Scenic designer David Gropman ignores masking, thus there is no illusion. We know what we see is theater, and only that. Against an upstage gold drape stagehands walk on and off with props now and then. Visual quotes from rustic melodrama fly in and out. There is a huge stump and slice of a sacrificed California redwood. Costume designer Rita Ryack stays literal to the period, adding naive concept to dancers' costumes. Choreographer John Heginbotham too played the naive against the en point classical technique exploits of the four women of the corps de ballet and particularly for the spider dance of prima ballerina Lorena Feijóo as the famed Lola Montez.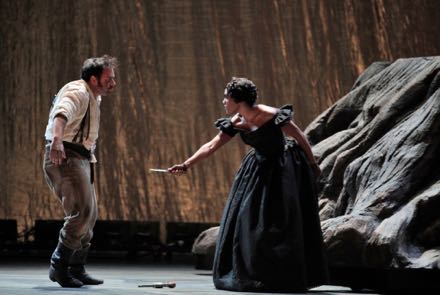 Josefa in the act of murdering Joe
But finally it was the words, and nothing but words, discretely if significantly amplified by sound designer Mark Grey. Amplification served to add heroic dimension to the voices most notably to mezzo-soprano J'Nai Bridges as Josefa Segovia and baritone Elliot Madore as Ramón, these two roles the focus of the Sellars' romantic tragedy — and it was sublime. Bass-baritone Davóne Tines as Ned Peters as the former slave was the moral focus, drawing a character of immense stature. Tenor Paul Appleby was the driven miner Joe Cannon who with soprano Hye Jung Lee as the Chinese whore Ah Sing created the grittiness and hopelessness of the gold rush free-for-all in their go-for-it-all performances.
Finally the soul of the opera was found in the performance of bass-baritone Ryan McKinny as Joe's friend Clarence who wielded Lady Macbeth's knife, forever transforming the lives of the opera's victims, and in the end, perhaps, embodying the opera's spiritual redemption. The opera's redeemer was Dame Shirley sung by soprano Julia Bullock who saw all, and as Lady Macbeth motivated all. Mlle. Bullock found the amplitude of emotional tone to observe, live and understand the tragedies of Downieville, by now a mere gold rush relic in the high Sierras, never letting us forget that these are real people with real names as was she (note that skin color was not always consistent with character).
These unique artists responded perfectly to the John Adams musical world, as did the spectacular accomplishment of the men of the San Francisco Opera chorus, all mastering the daunting score in what seemed to be a perfect performance (the fourth of eight). Conductor Grant Gershon took the San Francisco Opera Orchestra to the magnificent heights of the Adams score, in sometimes mind and heart boggling amplified fortes.
Surely this is composer John Adams' masterpiece. It is understood that the masterful Peter Sellars setting of the opera is but one of the infinite possibilities for stagings of the Sellars libretto and Adams score.
Cast and production
Dame Shirley: Julia Bullock; Ned Peters: Davóne Tines; Joe Cannon: Paul Appleby; Ah Sing: Hye Jung Lee; Clarence Ryan McKinny; Josefa Segovia: J'Nai Bridges; Ramón: Elliott Madore; Lola Montez: Lorena Feijóo. Chorus and Orchestra of the San Francisco Opera. Conductor: Grant Gershon; Stage director: Peter Sellars; Set designer: David Gropman; Costume designer; Rita Ryack; Lighting designer: James F. Ingalls; Sound designer: Mark Grey; Choreographer: John Heginbotham. War Memorial Opera House, San Francisco, November 29, 2017.
Manon at San Francisco Opera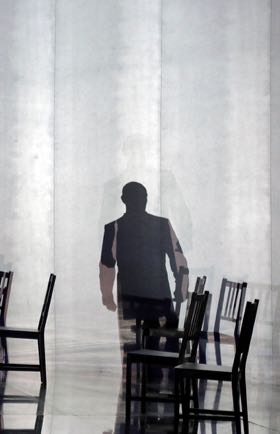 Shadow of des Grieux in the Vincent Boussard production
[All photos copyright Cory Weaver courtesy of San Francisco Opera]

Nothing but a wall and a floor (and an enormous battery of unseen lighting instruments) and two perfectly matched artists, the Manon of soprano Ellie Dehn and the des Grieux of tenor Michael Fabiano, the centerpiece of Paris' operatic Belle Époque found vibrant presence on the War Memorial stage.
Not that Jules Massenet's 1884 opera based on the Abbé Prevost's 1731 novel has much to do with San Francisco's tech drenched world. Except that the production by French director Vincent Boussard — with a perfect cast top to bottom (a rare feat for SFO) and deep musical sympathy for Massenet's trivial but magnificently crafted score by French conductor Patrick Fournillier — reverberated with trivial, exquisitely crafted emotions. It was a pure, universal art without much to do with anything or anywhere.
American soprano Ellie Dehn (Fiordiligi and Donna Elvira in recent SFO Mozart revivals) brought purity of voice, impeccable technique and refined musicianship and made Massenet's shallow trollop into an exquisite porcelain miniature. In aria after aria (there are lots and lots of them) Ms. Dehn's Manon's artistic integrity belied her selfishly frivolous ambitions. Her crystalline portrayal reflected off of the mirrored floor, her shadow caught on a curved wall that was at once her world and the world's display case.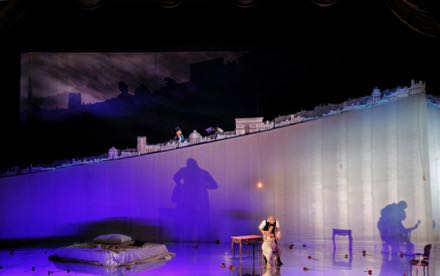 La petite table of Act II
American tenor Michael Fabiano (Rodolfo and Don Carlo in recent SFO productions, Jose at the Aix Festival) added stature to his exploding career as des Grieux, the amplitude of his voice and his studied acting made Massenet's impulsive young lover — who without a second thought hides his chagrin in abbott's habit overseen by crucified Jesus hanging in an upper vast black void — into a formidable operatic creation, never mind that it only took a few confused seconds for him to pull Manon onto the floor of the church and roll on top of her. All this after his exquisite "Ah ! Fuyez, douce image" that was met with our thunderous applause.
For those many of you who didn't stick around for the end, Manon expired down stage center in des Grieux' arms before rolling off the mirrored floor into the total black void that had enveloped the entire stage, all traces of the world erased. There were only these two meaningless creatures in the throes of high art. It was, in fact, sublime.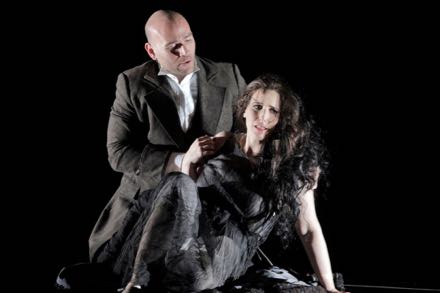 Michael Fabiano as des Grieux and Ellie Dehn as Manon of Act II
Director Boussard's set designer Vincent Lemaire provided the curved sloping wall and the mirrored floor that continued up the downstage left wall. As well it will have been Mr. Lemaire who provided the nothingness of the black void. Mr. Boussard created his own costumes, fantasy abstractions of the Belle Époque, the women's costumes adding intense color to the colorless monotones of the stage. Gilded shopping bags and gift boxes punctuated the space, not to overlook the bouquets of balloons, one of which transported Manon from the top of the wall to the floor of the stage!
This complex stage may have been heaven itself for the art of lighting designer Gary Marder, or maybe it was hell. Whichever, the lighting was a tour de force. From time to time the floor reflected onto the wall, the wall was bathed in color reflected on the floor, the minds and bodies of the actors were amplified by their shadows cast upon the wall, all the stage was black except for the precise illumination of the singers, and seemingly infinite variations of all the above.
The French of the all American cast had been coached to kingdom-come, making the spoken dialogues fun to follow as best we could, helped by the supertitles. Excellent companions to the Manon of Ms. Dehn and the des Grieux of Mr. Fabiano were des Grieux' father (an exact echo of La traviata's Germont), richly intoned by age appropriate bass James Creswell, Manon's sleazy cousin Lescaut cockily delivered by baritone David Pershall and Lescaut's rich friend de Bretigny intoned by elegant and worldly Timothy Mix. Providing additional, substantial vocal pleasure was the trio of actresses smoothly sung by Renée Rapier, Laura Krumm and Monica Dewey (strangely not a current Adler Fellow on the roster).
A slowly descending grand chandelier substituted the fourth act ballet, though when Manon's original suitor Guillot (Robert Brubaker) entered he was accompanied by a sous-sus-ing ballerina in tutu (Rachel Speidel Little) on a leash.
This masterful Boussard production originated in Vilnius in 2015. From San Francisco it travels to Tel Aviv. Not to be missed.
Cast and Production
Manon: Ellie Dehn; Chevalier des Grieux: Michael Fabiano; Lescaut: David Pershall; Comte des Grieux: James Cresswell; De Brétigny: Timothy Mix; Guillot: Robert Brubaker; Pousette: Monica Dewey; Javotte: Laura Krumm; Rosette: Renée Rapier. Chorus and Orchestra of the San Francisco Opera. Conductor: Patrick Fournillier; Stage Director: Vincent Boussard; Associate Director: Gediminas Seduikis; Scenery: Vincent Lemaire; Costumes: Vincent Boussard; Lighting Designer: Gary Marder. War Memorial Opera House, San Francisco, November 7, 2017.
La traviata at San Francisco Opera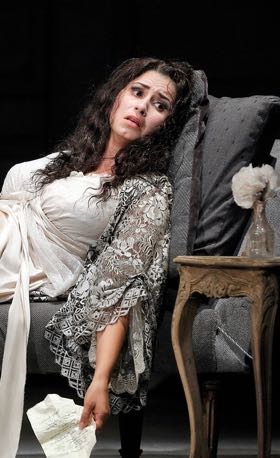 Aurelia Floria as Violetta
[All photos copyright Cory Weaver courtesy of San Francisco Opera]

A beautifully sung Traviata in British stage director John Copley's 1987 production, begging the question is this grand old (30 years) production the SFO mise en scène for all times.
Romanian soprano Aurelia Florian sings Violetta in all ten performances (through October 17). She is young and pretty, her voice is strong and rich throughout all registers, and her high notes are splendid (she does not take the optional high E flat in the "Sempre libera"). Verdi famously wanted a real woman for this role, a woman who could actually suffer. Mme. Florian does indeed suffer, if as a heroine of opera's coming verismo. In Verdian terms la Florian's Violetta is far from the proto-verismo of his delicate Desdemona, hers is more his decisive Lady Macbeth.
Most of all Mme. Florian greatly pleases us as an excellent singer. That she is also a suffering mid 19th century courtesan is less compelling.
Alfredo, the Brazilian tenor Atalla Ayan, is an excellent singer as well. His voice is wonderfully even throughout its registers, its tone more decisive than rich. He offers his arias with a vocal enthusiasm that is infectious, easily projecting his vibrant emotions.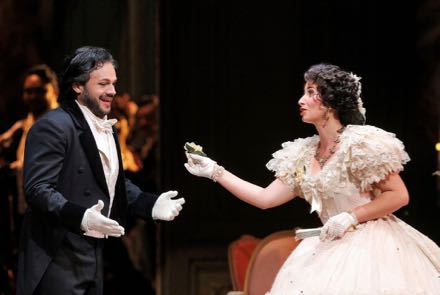 Atalla Ayan as Alfredo, Aurelia Floria as Violetta
In the first act both singers easily found their characters, Violetta seated alone in her grand salon to contemplate her "Ah fors'è lui," then to burst onto her balcony to deliver its antithesis, Alfredo, behind the scene, grandly intoning his ardor.
The second act became difficult, the complex turns of the plot demand subtle development of character and emotion, here the actors were exploiting the fine movement of their voices, leaving the unfolding tragedy to find its own way. The loss of dramatic focus was most evident in the Germont of young Polish baritone Artur Ruciński. Mr. Ruciński is an extraordinary singer, able to gloriously project text in musical line, providing enormous satisfaction to his listeners. But he did not achieve the warmth and maturity and the deep humanity of this sympathetic, honest man trapped in provincial morality.
The Copley production in this fifth edition staged by Shawna Lucey became clumsy in the gambling scene, the chorus and ballet cumbersome, and the showdown (Alfredo humiliating Violetta) pallid. Without having deepened and exploited the opera's personalities the death scene read as incidental.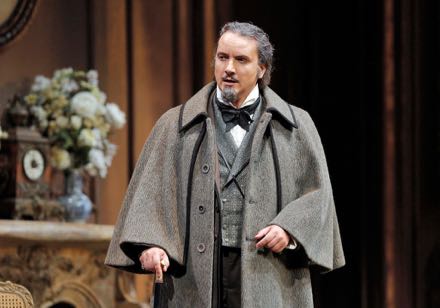 Artur Ruciński as Germont
Meanwhile conductor Nicola Luisotti was finding every palpitation of emotion in the score, the strings of the San Francisco Opera orchestra choking with emotion in the overture, the clarinet solo unabashedly sobbing while Violetta writes her note to Alfredo, the enormity of the tragedy welling up in the death scene, the finality of death hammered in the final, magnificent roll of the tympani.
In concert with the truly excellent singing the magnificence of the Luisotti orchestra trapped this evening into inexplicable musical and dramatic frigidity.
As Verdi wished (and was initially denied) the Copley production sets the action in 1852 or so. Verdi wanted the contemporary moment. Of course it is now 2017. Our contemporary moment is of great complexity, and of a breadth far beyond the concerns of Verdi. It is a fascinating question how to stage a timeless work of art in a production that recognizes, respects and exploits the artistic and moral accomplishment of the intervening 150 or so years.
This production marked the first time supertitles were used for La traviata at San Francisco Opera. The supertitles were created by Jerry Sherk (SFO's then production manager, now legendary). They tell the story simply and easily in the abstract manner of supertitles of that era. It is time to create new supertitles for future productions that echo the rhythms of the phrases as they are sung.
It should be mentioned that sloppy masking in the first act allowed an annoying, blinding light from a stage manager's desk to escape into the house.
Cast and production
Violetta Valery: Aurelia Floria; Alfredo Germont: Atalla Ayan; Giorgio Germont: Arthur Rucinski; Flor Bervoix: Renee Rapier; Gastone: Amitai Pati; Baron Douphon: Philip Skinner; Doctor Grenvil: Anthony Reed; Marquis d'Obigny: Andrew G. Manea; Annina: Amina Edris. Chorus and Orchestra of the San Francisco Opera. Conductor: Nicola Luisotti; Production: John Copley; Stage Director: Shawna Lucey; Set Designer: John Conklin; Lighting Designer: Gary Marder; Choreogorapher: Carola Zertuche; Costume Designer: David Walke. War Memorial Opera House, San Francisco, September 26, 2017.
Elektra at San Francisco Opera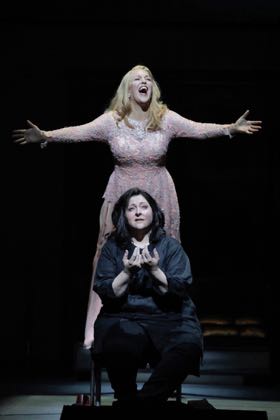 Christine Goerke as Elektra, Adrianne Pieczonkan as Chrysothemis
[All photos copyright Cory Weaver courtesy of San Francisco Opera]

Among the myriad of artistic innovation during the Kurt Herbert Adler era at San Francisco Opera was the expansion of the War Memorial Opera House pit. Thus there could be 100 players in the pit for this current edition of Strauss' beloved opera, Elektra!
Among the accomplishments of the Gockley era was music director Nicola Luisotti's refinement of the San Francisco Opera Orchestra. And perhaps in no other opera can the glories of this superb orchestra shine forth more brilliantly than in Elektra, the Strauss score demanding myriads of colors and masses of volumes to tell its very ugly story.
It is very beautiful music, but unlike bel canto that can tell ugly stories too, Strauss modernism finds its beauty in sonically colorful hues that intensify the human spirit in its most dreadful conflicts (bel canto revels in the voices it uses to overpower conflict). All this Strauss orchestral magnificence was indeed present for this Elektra!
On stage was British stage director Keith Warner's staging, a co-production with Prague's National Theatre where the production debuted last year, and with the Karlsruhe (Germany) opera. It is a rarity these days to find a high concept European-style production on the War Memorial stage.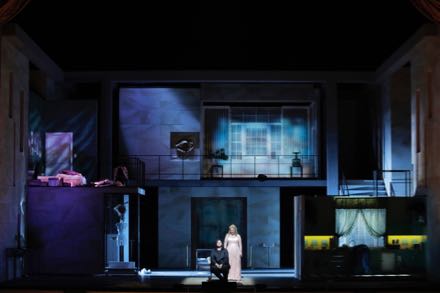 Museum with interpolated bedroom, living room and kitchen of surrogate family
Director Warner set up his concept in the a vista (open-to-view) stage while the audience was finding its way to its seats and reading the program booklet. Those of us who didn't pay much attention to the open stage and to what we assumed was an over-used Brechtian convention (meaninglessly used in the 2009 Salome as example) had some catching up to do once the opera started. We had no idea that the evening had begun before it began.
But we correctly assumed that the girl dressed all in black was Elektra. Little by little it became clear that the setting was not just a museum but actually an antiquities museum, and the girl dressed in black was going to relive a domestic drama (mother kills the girl's father), its actors confused between ghosts of antiquity and the actual members of a modern family.
Thus it became a sort of soap-opera docudrama of the Strauss opera that we either enjoyed sorting out, most evidently did, or we did not (I didn't). Director Warner was so involved creating his concept in a myriad of detail that the idées fixes — the obsessions — of Elektra, Klytemnestra, and Orest simply evaporated into his orgy of storytelling.
In fact Mr. Warner's Elektra re-creation was so vividly explained that for me it overpowered the splendors emanating from the pit and eviscerated the opera's usual punch.
The Elektra bar has been set really high in recent productions around the world. San Francisco Opera's Elektra, American soprano Christine Goerke, kept pace. She is in prime form vocally, and showed herself well capable of withstanding Elektra's extended vocal tortures with appealing musicianship. If from time to time you wished for a bigger sound you got it when Strauss demanded it. On stage she gamely and convincingly fulfilled director Warner's idea of a family's black sheep child in dramatic soprano wolf's clothing.
Canadian soprano Adrianne Pieczonka is the world's reigning Chrysothemis. Her voice was of innocent sweetness until she became overwhelmed with Elektra's demands and then it soared proudly over the hugest orchestral climaxes. She too convincingly and unflinchingly embodied director Warner's character, complete with little girl mannerisms while hugging her teddy bear.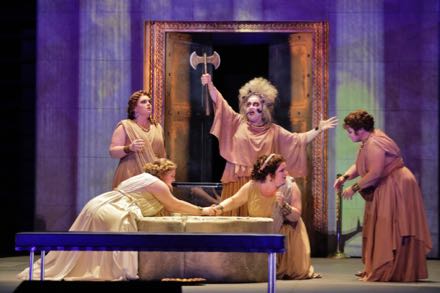 The five Maidservants
The five maidservants of the opera's beginning were splendidly sung once they were allowed on stage (initially they were off-stage, their sound uncomfortably muffled, so that director Warner could make his point that the ghosts of the museum were to come alive).
The balance of the cast was a mixed bag. Stephanie Blithe was to have been the Klytemnestra but she cancelled. Her replacement, Michaela Martens was over-parted in the company of Mmes. Goerke and Pieczonka, as were the Orest of Alfred Walker and the Aegisth of Robert Brubaker.
Young Hungarian conductor Henrik Nánási gave convincing body to the Strauss orchestral score. Note that Mr. Warner's staging was effected in San Francisco by Anja Kühnhold of the Badisches Staatstheater Karlsruhe.
Cast and production information:
Elektra: Christine Goerke; Klytemnestra: Michaela Martens; Chrysothemis: Adrianne Pieczonka; Orest: Alfred Walker; Aegisth: Robert Brubaker; Tutor of Orest: Anthony Reed; Fifth Maidservant: Rhoslyn Jones; The Overseer: Alexandra Loutsion; Maidservant 1: Jill Grove; Maidservant 2: Laura Krumm; Maidservant 3: Nicole Birkland; Maidservant 4: Sarah Cambidge; Klytemnestra's Trainbearer: Amina Edris; An Old Servant: Bojan Kneževiċ; A Young Servant: Kyle van Schoonhoven; Klytemnestra's Confidante: Erin Neff. San Francisco Opera Orchestra. Conductor: Henrik Nánási; Original Director: Keith Warner; Revival Director: Anja Kühnhold; Set Designer: Boris Kudlička; Costume Designer: Kaspar Glarner; Lighting Designer: John Bishop; Video Designer: Bartek Macias. War Memorial Opera House, San Francisco, September 13, 2017
Turandot at San Francisco Opera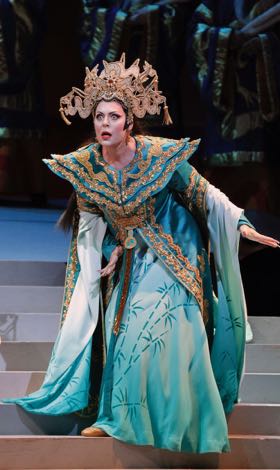 Martina Serafin as Turandot
[All photos copyright Cory Weaver courtesy of San Francisco Opera]
Mega famous L.A. artist David Hockney is no stranger at San Francisco Opera. Of his six designs for opera only the Met's Parade and Covent Garden's Die Frau ohne Schatten have not found their way onto the War Memorial stage.
The hype surrounding the Hockney retrospective just now in Paris, last year in London and soon to arrive at New York's Met (November 27), and certainly the 2013 Hockney exhibition at SF's De Young have kept this now 80 year-old icon of canvas painting at the center of the art world's attention.
Thus there has been excited anticipation of this operatic addition to a Hockney retrospective. His 1992 Turandot burst just now onto the War Memorial stage like it had never before been there. And there are reasons for this perception.
There was a more intense sense of color indeed as the scenic drops had been repainted, plus (and I am surmising) there were (perhaps) more sophisticated lighting instruments in use that brought greater luminosity to color and clarity of shape. [For the record: current SFO lighting designer Gary Marder used the original 1993 lighting plot to light the scenery. Intensities were brightened from those found on a poor quality video of the 1993 production. Newer high-intensity lamps were used to light the actors.]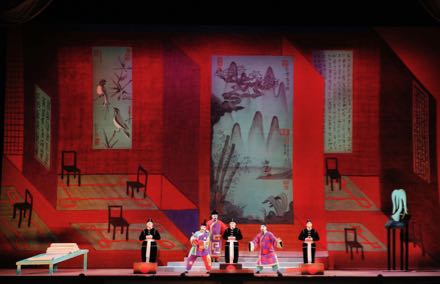 Act II, scene 1. Ping, Pang, Pong, in front of Hockney drop in reverse perspective
A more compelling contribution for this new discovery of the Hockney production was conductor Nicola Luisotti who triggered timeless lyricism into the Puccini's sonically massive score. As David Hockney defies space with his plays of and on perspective, conductor Luisotti made time stand still with tempos and tonalities that dwelt on fixing the specific place and amplifying the immediate emotion — in fact eternalizing the moment. It was an amazing musical feat that intensified the Hockney discovery of the huge spaces and boundless desire.
The opera Turandot is much like what Hockney discovers in his L.A. swimming pools — a magical world of vivid color and commanding shape in which not-so-covert desires dance in motionless forms. That Puccini's Turandot is dramatically stagnant intrigued Hockney and Luisotti to create Puccini's opera as a parable of desire extended onto a timeless flat canvas.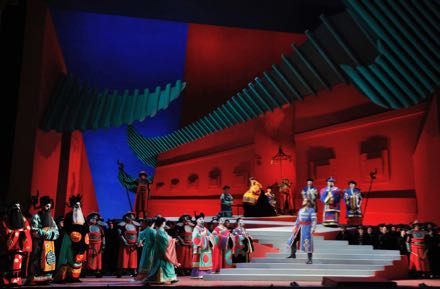 Act II, scene 2. Calaf answering riddles
As conducted by Luisotti last night the Hockney production proved itself a masterpiece.
Of the cast only Austrian soprano Martina Serafin rose to the level of the production. The 47 year-old diva rang the icy tones of a Turandot isolated in blind revenge until her emotions finally roared forth in unleashed verismo. She and conductor Luisotti musically and dramatically validated Franco Alfano's controversial conclusion.
American tenor Brian Jagde has finally found his niche as the stentorian Calaf with such tones unrelentingly imposed on Turandot and the Chinese crowds and us. If initially thrilling in effect his clean tone wore as it remained unvaried. This fine, young tenor showed his stylistic limitations in the first act where middle voice strength and emotional mannering make Calaf one of the repertoire's more challenging roles. Adler Fellow (SFO's finishing school) Toni Marie Palmertree sang Liu quite beautifully but Liu's innocence was replaced with the bravura of inexperience.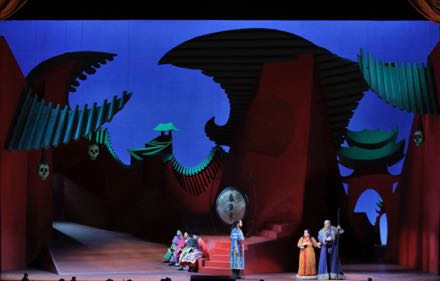 Act 1. Ping, Pang, Pong, Calaf, Liù and Timur
The pathos of Calaf's father Timur, sung by bass Raymond Aceto, somehow got lost in the melée. Korean baritone Joo Won Kang was a lovely sounding if small voiced Ping, Korean tenor Julius Ahn as Pang added energy to the trio of counselors, and tenor Joel Sorensen as Pong capped the group with infectious gusto. Baritone Robert Brubaker delivered, gratefully, the Emperor Altoum as a dignified, fine voiced father of Turandot.
The huge chorus and the principals were expertly and very beautifully posed and moved about by American regional stage director Garnett Bruce who always respected the flat surface of the stage canvas. He amusingly employed six, mostly-naked senior citizen eunuchs to execute the Prince of Persia and later to remove the dead Liu.
Cast and production
Turandot: Martina Serafin; Calaf: Brian Jagde; Liù: Toni Marie Palmertree; Timur: Raymond Aceto; Ping: Joo Won Kang; Pang: Julius Ahn; Pong: Joel Sorensen; A Mandarin: Brad Walker; Emperor Altoum: Robert Brubaker. San Francisco Opera Chorus and Orchestra. Conductor: Nicola Luisotti; Production and Design: David Hockney; Director: Garnett Bruce; Costume Designer: Ian Falconer; Original Lighting Designer: Thomas J. Munn; Lighting Designer: Gary Marder; Choreographer: Lawrence Pech. War Memorial Opera House, San Francisco, California, September 12, 2017.
La bohème at San Francisco Opera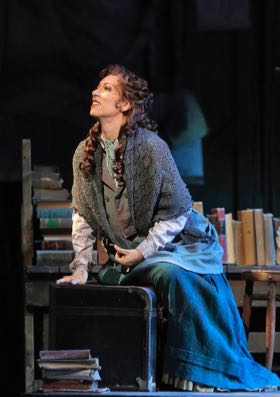 Erika Grimaldi as Mimi
[All photos copyright Cory Weaver courtesy of San Francisco Opera]
In 2008 it was the electrifying conducting of Nicola Luisotti and the famed Mimì of Angela Gheorghiu, in 2014 it was the riveting portrayals of Michael Fabbiano's Rodolfo and Alexey Markov's Marcelo. Now, in 2017, it is the high Italian style of Erika Grimaldi's Mimì — and just about everything else!
Notably the crystalline story telling of Puccini's sad little tale by director John Caird. Gone, well mostly gone, was his forced metaphor of life becoming art, i. e. the Paris of Marcello's paintings (a collage) as the backdrop for Mimì's death to become Rodolfo's muse (blatant in his 2014 SFO staging). In its place nothing but detail, and no detail in the staging not discovered in the Puccini score — in large strokes the precise restaurant service at the Café Momu, in tiny strokes the sprinkling of water droplets to triangle tings. With this specificity director Caird found his story in the music. Marvelous even magical storytelling was the result.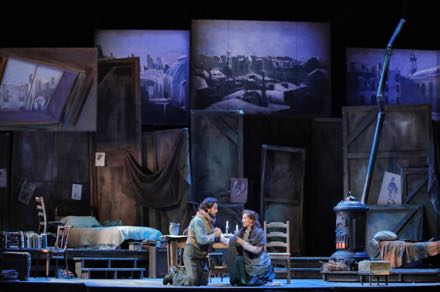 Arturo Chacón-Cruz as Rodolfo, Erika Grimaldi as Mimì
Conductor Carlo Montanaro was a skilled collaborator, providing an energetic canvas for director Caird's realization of Puccini's four brief vignettes of Parisian bohemian life. Montanaro's reading vividly portrayed this Paris and its little tragedies without imposing the power of music to overwhelm their importance. His was a descriptive reading of that world, not a profound descent into its most private moments. Except, maybe, in soprano Mimì's moving Donde lieta, splendidly delivered by Erika Grimaldi.
The masterpiece status of Puccini's opera was resoundingly reaffirmed.
Amidst a cast that seemingly could have stepped right out of Montmartre Italian soprano Erika Grimaldi stood out as the voice of Italian opera, delivering the delights of Italian schooling (ma che scuola!). In a full, warm voice that bespoke Puccini's Tuscan landscape she articulated language with throaty finesse and allowed her tongue ample freedom to roll and punctuate. The largest voice of the evening, well exploiting the sculpture of soaring lines la Grimaldi was indeed this Bohème — the title of the show.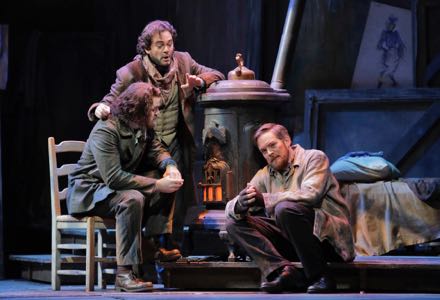 Brad Walker as Schaunard, Arturo Chacón-Cruz as Rodolfo, Scott Conner as Colline
Mexican tenor Arturo Chacón-Cruz stretched his voice to take on Rodolfo, his lighter timbre permitting him to exploit the flow of Puccini line rather than to mimic tenorial mannerisms. His Rodolfo was youthful, charming and real. Norwegian baritone Auden Iversen was a small scale, believable Marcello, his darkly hued voice adding unexpected color and therefore an earthy reality to this mix of bohemians. American bass Scott Conner was a low affect Colline. He as well fit right into the gang, his aria to his coat sung softly and very beautifully. Adler Fellow Brad Walker made himself leader of the gang with his lively, fun and richly vocal presence.
Inexplicably cast (yet again) as Musetta Mozart soprano Ellie Denn made this vibrant Puccini character matronly in beautiful, measured tone.
Mimì's death, the fourth vignette, slowly and softly revealed each of the bohemians coming to grips with death, making Rodolfo's death cry a sudden recognition of finality to a magical vision of young life as art. It was indeed beautiful.
And very slick.
Cast and production
Mimì: Erika Grimaldi; Musetta: Ellie Dehn; Rodolfo: Arturo Chacón-Cruz; Marcello: Audun Iversen; Colline: Scott Conner; Schaunard: Brad Walker; Benoit: Dale Travis; Alcindoro: Dale Travis. San Francisco Opera Chorus and Orchestra. Conductor: Carlo Montanaro; Director: John Caird; Production Designer: David Farley; Lighting Designer: Michael James Clark. War Memorial Opera House, San Francisco, June 15, 2017.
Don Giovanni at San Francisco Opera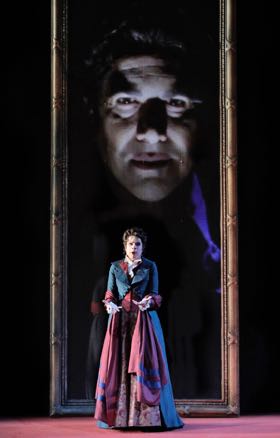 Lianna Hartounounian as Cio-Cio-San
[All photos copyright Cory Weaver courtesy of San Francisco Opera]
San Francisco Opera revved up its 2011 production of Don Giovanni with a new directorial team and a new conductor. And a blue-chip cast.
Originally staged in 2011 by Italian actor and theater director Gabriele Lavia, a sometime Nicola Luisotti collaborator for opera productions in Italy and Japan, this SF production hung twenty two huge, framed mirrors that flew in and out of an empty black space. Lavia did sometimes move the action among them, but usually he simply paraded the protagonists back and forth across the front-of-stage where maestro Luisotti could keep them under his baton.
The mirror metaphor can indeed be visually effective, and it does infer all sorts of conceptual profundity. But mostly it simply reflects what is and then simply asks what it all means. Responding to this lack of content San Francisco Opera brought in an alternate director, Italian theater director Jacopo Spirei who brought with him Tommi Brem, a theatrical video designer. No longer reflections, the mirrors framed video portraits of characters of interest to whomever might be singing an aria. This was only sometimes. Usually the frames were blank.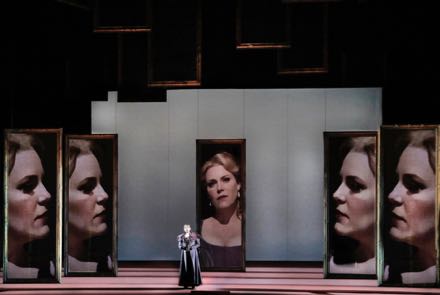 Erin Wall as Donna Anna plus Donna Anna in video image
It all ended with the face and hands of the consumed Don Giovanni plastered on a number of frames, evidently trying to get back in. Or something.
Though Luisotti was no longer in the pit, the protagonists still crossed and re-crossed the front-of-stage pathway to sing the arias we know so well. The new conductor was Marc Minkowski, once famed as an early music conductor now general director of Opéra National de Bordeaux. Minkowski is not insensitive to what happens on stage — as example his conducting of the 2013 inebriated production of Don Giovanni at the Aix Festival was absolutely wacko. In keeping with this production however he gave us the score exactly as written, his quick, very quick tempos avoiding any exploration of the score whatsoever. And that is what was on the stage.
The splendid San Francisco Opera orchestra did indeed keep the pace, but the smooth sounds of a modern symphony orchestra do not give the bite and scratch needed to articulate the phrasing and structure of a Mozart score at such speed. Arms flailing in the overture Minkowski did indeed let us know he is a divo. His pit erected an orchestral entity that remained haughtily separate from the world of the stage — even though evidently he fully knew what was there. The finales of both acts I and II were a mess. He could not have cared.
Even so it was, after all, Don Giovanni, and there was a cast well qualified to perform the roles. Thus some of the magic of the masterpiece did shine through from time to time. All excellent singers, they were seven artists in search of a production.
Da Ponte's characters came straight off the pages of the score, no deeper exploration at all, i.e. the production asked no questions (though no doubt these artists had many). Ildebrando D'Arcangelo, the Don Giovanni, was seductive, defeated and unrepentant. Leporello, sung by Erwin Schrott was quick, articulate and knew the score (no puns intended). Donna Anna, sung by Erin Wall, was indeed aggressed by the Don and indeed suffered, Don Ottavio, sung by Stanislas de Barbeyrac, fully understood her need of a year to recover. Donna Elvira, sung by Ana Maria Martinez, was sillily obsessed by the Don. Zerlina and Masetto, sung by Sarah Shafer and Michael Sumuel, gamely did their thing.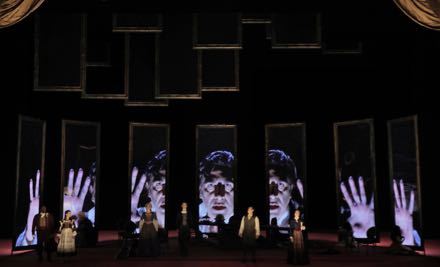 All principals in Epilogue and final video image of Don Giovanni
No doubt the simulcast of the opera house performance onto the score board of AT&T stadium on June 30 is the place to get the best of this Don Giovanni. On-screen opera focuses on the faces of the performers rather than on the production.
Cast and production
Don Giovanni: Ildebrando D'Arcangelo; Donna Anna: Erin Wall; Donna Elvira: Ana María Martínez; Leporello: Erwin Schrott; Don Ottavio: Stanislas de Barbeyrac; Zerlina: Sarah Shafer; Masetto: Michael Sumuel; Commendatore: Andrea Silvestrelli. Chorus and Orchestra of the San Francisco Opera. Conductor: Marc Minkowski; Stage Director: Jacopo Spirei; Projections and Scenic Adaptations: Tommi Brem; Costume Designer: Andrea Viotti; Lighting Designer: Gary Marder; Original Set Designer: Alessandro Camera. War Memorial Opera House, San Francisco, June 8, 2017.
Rigoletto at San Francisco Opera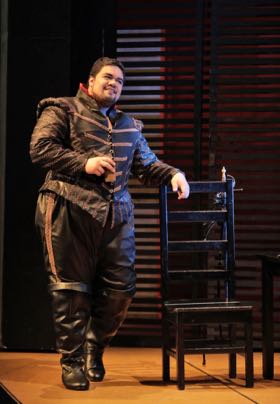 Pene Pati as the Duke of Mantua
[All photos copyright Cory Weaver courtesy of San Francisco Opera]
Every once in a while a warhorse redefines itself. This happened last night in San Francisco when Rigoletto propelled itself into the ranks of the great masterpieces of opera as theater — the likes of Falstaff and Tristan and Rossini's Otello.
The two Rigoletto's were clearly evident, that of its protagonists in the persuasive lyricism of the jester and his daughter and the Duke of Mantua, and that of its clumsy dramatic rhetoric — the curse of Monterone. British stage director Rob Kearney, working in the 20 year-old sets designed by Michael Yeargan (SFO's current Ring among countless others), exploited Yeargan's minimalist abstractions of neoclassic architecture and blocks of primary color to frame Verdi's actors in abstracted, often long sustained dramatic poses when not responding to the commotion of the courtiers in detailed lazzi (commedia dell'arte staging tricks) by four dancers.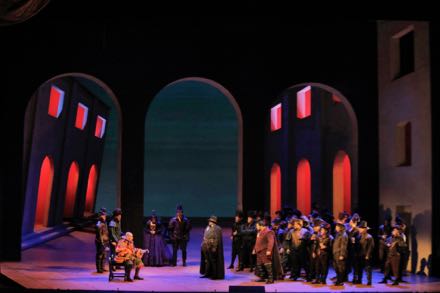 Respecting a (i.e. my) perceived Luisotti dictum director Kearney moved the action into and out of the downstage areas easily controlled by the maestro's baton. In this splendid evening however it was evident that three powerful artists had the maestro in their thrall. This synergy created what may have been conductor Nicola Luisotti's finest hour at San Francisco Opera as he led an impeccably measured exposition of Verdi's early middle period opera as pure bel canto.
Beautiful singing is basic to Rigoletto as its basic emotions are beautiful and very human — the love of a father for his daughter and the freshness of youthful desire. Baritone Quinn Kelsey, once a Merola participant and then a house singer at San Francisco Opera, has matured into a formidable bel canto artist, able to discover larger and longer contours in Verdi's musical lines and to manipulate the inherent emotion of text without breaking line. Now in his vocal prime, Kelsey possesses a strong instrument of golden tone he has placed in service to high style.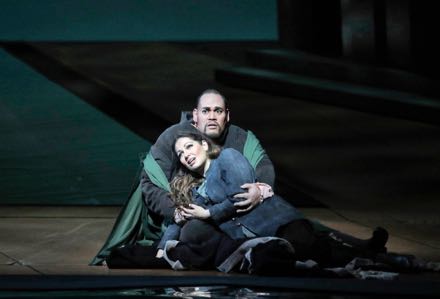 Quinn Kelsey as Rigoletto, Nino Machaidze as Gilda
Soprano Nino Machaidze has a warm maturity of voice and a command of style that goes far beyond the innocence of Victor Hugo's young victim. It was her intelligence that thrust this performance to a musical plateau where anything is possible, in this case a virtual musical embodiment of an adolescent girl gilded in magnificent sound. It was this ideal of bel canto that gave unique definition to the drama of this Rigoletto.
Ingénu
tenor Pene Pati is purely and simply the vocal embodiment of the Duke of Mantua, possessing the vocal swagger, the freshness of voice, and the creative energy that makes the Duke, indeed all youth, lovable. The artistic achievement of this debut in a major role on a major stage was formidable, this young artist fusing surprisingly graceful stage movement with nearly impeccable vocal delivery. And there was solid tenorial attitude. Aplenty.
These three artists inhabited their musical worlds to the fullest. It was the collision of their worlds that created high operatic drama on the War Memorial stage, and proved, as does happen every so often, that opera is the most rarefied and distilled of all theatrical worlds.
If conductor Luisotti's pit was devoid of all exaggeration, so was director Kearney's stage, the melodrama of Monterone's curse was defused by placing it always front and center and always thundering it in the voice of bass Reginald Smith, Jr. Nothing more. The fulfillment of the curse was relegated to the shadows. Andrea Silvestrelli in his signature role as Sparafucile, emerged from the darkness from time to time to realize the Monterone's vengeance. Maddalena, sung by Adler Fellow Zanda Švēde appeared only in the dim environs of his inn and then only to satisfy the Duke's desire. Nothing more.
San Francisco Opera resident lighting designer Gary Marder created a mottled darkness that permeated the evening, offset from time to time by saturated blocks of primary color. Mr. Marder's lighting discovered entirely new atmospheres for this old production, atmospheres that were instrumental in upholding the intense musical level of this remarkable evening. Even the Yeargan set was swept up in the musicality, when required its elements changed position, motion seemingly initiated not by mechanics but by the sheer power of the music. Gesamtkunstwerk indeed.
Luisotti's orchestra played with requisite finesse, the lower strings elegantly grinding gutsy drama into Rigoletto's realization that he had been tricked, solo wind instruments suavely adding subtle feeling to arias à la Rossini. Kelsey Quinn's "Cortegiani" acquired an unusual sophistication in tones that moved us, and moved the resplendent San Francisco Opera's courtiers to back off, thus creating a quite powerful emotional vista — amply rewarded with prolonged applause.
Cast and production
Rigoletto: Quinn Kelsey; Gilda: Nino Machaidze; The Duke of Mantua: Pene Pati; Maddalena: Zanda Švēde; Sparafucile: Andrea Silvestrelli; Count Monterone: Reginald Smith, Jr.; Marullo: Andrew G. Manea; Borsa: Amitai Pati; Count Ceprano: Anthony Reed; Countess Ceprano: Amina Edris. San Francisco Opera Chorus and Orchestra. Conductor: Nicola Luisotti; Stage Director: Rob Kearley; Set Designer: Michael Yeargan; Costume Designer: Constance Hoffman; Lighting Designer: Gary Marder. War Memorial Opera House, San Francisco, June 6, 2017.